Returning to Thailand a year after PETA Asia denounced the use of forced monkey labor on Thai coconut farms, investigators have now found that producers and the Thai government are lying to the public and importers about the use of monkeys, which continues despite false claims and empty promises.
In a new video, industry insiders discuss how farms simply hide monkeys until listeners leave or buy monkeys without recording them when registration is legally required. Of the 14 coconut farms that PETA Asia investigators visited in 2020, it was confirmed that half of them still use monkeys, including two farms visited the previous year. As for the others, since farmers can hire contractors to bring in monkeys only during harvest time, it is almost impossible to know whether they are using them or not.
PETA Asia found that any audit or inspection visit was announced to farmers in advance, giving them time to hide the animals. A farmer who uses monkey labor told investigators that Chaokoh officials did not ask farmers to stop using monkeys.
In response to the new information, PETA and its affiliates are stepping up pressure on the Thai government to hold the coconut industry accountable. And we will also continue to push distributors to reconsider their relationship with Chaokoh. More than 26,000 stores around the world have already banned brands of coconut milk that use coconuts picked by monkeys.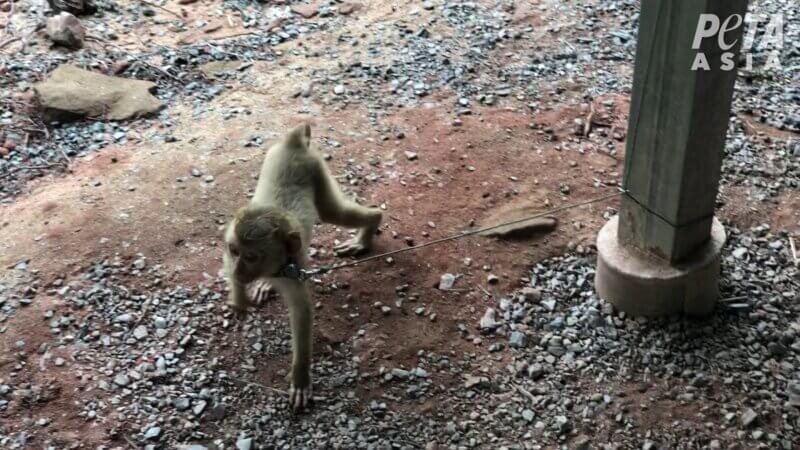 Help the monkeys
Make sure your coconut products are not from suppliers who use monkey labor. Avoid Chaokoh and all coconut products from Thailand that are picked by monkeys. In general, coconut products from Brazil, Colombia, Hawaii, India, and the Philippines are supplied by companies that do not exploit monkeys.
And sign our action to ask Chaokoh to stop supporting this cruel industry by sourcing coconuts from companies that don't use monkeys.