More and more people are now choosing to eat and dress vegan. But what about car interiors? Can they be free from material of animal origin? We are receiving more and more questions about car interiors that meet this criterion. To make it easier for you in your search for a car suitable for your vegan lifestyle, we therefore asked the main car brands about the vegan models available today.
What does "vegan interior" mean?
In cars with a vegan interior, no material of animal origin (such as leather or wool) is used for the interior surfaces of the passenger compartment. This includes the seats, upholstery, steering wheel, and gear lever.
Please note that car interior options may vary from country to country compared to the company's initial recommendations, so the availability of vegan interiors is not always guaranteed. Only the latest versions of car models are listed. Please contact your nearest dealer for any further information.
Here are the results of the very first survey of vegan car interiors conducted by PETA:
Vegan interior available
CITROËN

Vegan cabin as standard

Citroën C1, in Live and Feel versions
Citroën C3, in Live, Feel and Feel Business versions
Citroën C3 Aircross SUV, Live version
Citroën C-Elysée, in Live version
Citroën E-Berlingo Multispace, in Feel Nav version
Citroën Berlingo, in Live version
Citroën SpaceTourer, in Feel and Business versions
Citroën Jumpy Combi, on all versions
Citroën Jumper Combi, on all versions

DACIA

Vegan cabin as standard

Dacia Logan
Dacia Sandero
Dacia Sandero Stepway
Dacia Duster
Dacia Lodgy
Dacia Logan MCV
Dacia Dokker

FORD

Vegan cabin as standard

HONDA

Vegan cabin as standard

Optional vegan cabin

JAGUAR LAND ROVER

Vegan cabin as standard

Optional vegan cabin

Jaguar I-PACE (Luxtec S)
Land Rover Discovery Sport (Miko and Luxtec microfiber suede)

THIS

Vegan cabin as standard

Picanto (1st year)
Rio (1st year)

Mercedes-benz

Vegan cabin as standard

Mercedes-Benz Class A
Mercedes-Benz A-Class Limousine
Mercedes-Benz Class B
Mercedes-Benz CLA Coupe
Mercedes-Benz CLA Shooting Brake
Mercedes-Benz V-Class

Optional vegan cabin

Mercedes-Benz C-Class *
Mercedes-Benz E-Class *
Mercedes-Benz EQC *
Mercedes-Benz S-Class **
Mercedes-Maybach S-Class **

* Steering wheel to be ordered specially

** Seat and upholstery to be ordered specially

PEUGEOT

Vegan cabin as standard

Peugeot 108, in Like and Active versions
New Peugeot 208, in Like version
Peugeot Rifter, an Active version
Peugeot Expert Combi, on all versions
Peugeot Traveler, in Active and Business versions
Peugeot Boxer Combi, on all versions

THE POLAR STAR

Vegan cabin as standard

RENAULT

Vegan cabin as standard

Renault Twingo
Renault Clio
Renault Captur
Renault Megane
Renault Megane Estate
Renault Kangoo
Renault Trafic

CLEVER

Vegan cabin as standard

YOU'RE HERE

Vegan cabin as standard

Optional vegan cabin

Tesla Model S
Tesla Model X

TOYOTA

Vegan cabin as standard

Toyota Aygo
Toyota Corolla hatchback
Toyota Corolla sedan
Toyota Corolla Touring Sports
Toyota fortuner
Toyota hilux
Toyota Prius and Prius +
Toyota yaris

VAUXHALL

Optional vegan cabin

Combo Cargo
Movano
Vivaro
Vivaro-e
Zafira-e
Zafira-e's life
Vegan interior unavailable
AUDI
BENTLEY
Bmw
BUGATTI
FERRARI
LAMBORGHINI
LEXUS
MAZDA
MINI
PORSCHE
ROLLS ROYCE
SEAT
PITY
VOLKSWAGEN
VOLVO (NB: Vegan interiors will be available as an option from 2021)
No information provided

ABARTH
ALFA ROMEO
ASTON MARTIN
DECREE
HYUNDAI
ISUZU
JEEP
LOTUS
MITSUBISHI
NISSAN
SUBARU
SUZUKI
****
Why are leather and wool a problem?
The leather industry generates 400 billion dollars a year worldwide and is responsible for the slaughter of more than a billion animals. The calves are marked on the face. Cows and bulls are electrocuted and beaten before they are finally slaughtered in order to transform their hides into leather interiors used by the world's largest automakers.
On average, it takes three cowhides to cover the interior of a standard car. The figure may rise to 15 for some vehicles.
Sheep are now being bred to produce much more wool than is natural. Around the world, reports have shown how these gentle animals are brutally beaten, maimed and even killed during brutal mowing. Their fleece will then be transformed into fabrics used for seats and upholstery. Once they are no longer useful to the industry, they are sent to the slaughterhouse.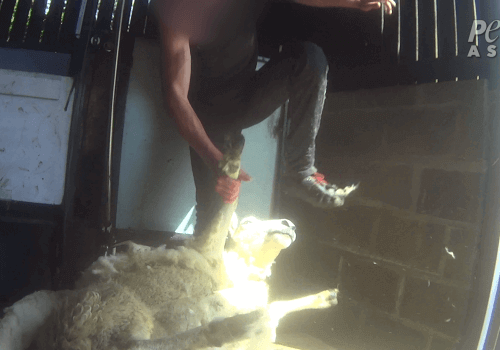 The production of material of animal origin is as bad for the earth as it is cruel for animals. Vegan fabrics (even synthetic) have a much smaller ecological footprint and are mostly durable, innovative and resilient.
What you can do
Contact companies! It's a good thing to see so many big names in the automotive industry shifting to second gear in using eco-friendly vegan fabrics that no animals have been killed for (like apple and grape leather) in their vehicles. However, some manufacturers remain at a standstill.
Remember: your opinion matters. If an automaker doesn't currently offer vegan interiors, contact them and encourage them to introduce some.
Sign our call to action to send a message now: