On the eve of the debate on the new law against animal abuse, Greg Guillotin sent a letter to the Minister of Ecological Transition, Barbara Pompili, to call on him on the urgency of closing the farms fur producers. In view of the involvement of these places in the spread and mutation of the new coronavirus, "we cannot wait until 2025" writes the actor.
"As a worried environmentalist but especially as a French citizen, I ask you not to wait until 2025 to close the four mink farms still in activity in France. We must act to protect public health, support these breeders in a transition to an ethical activity that poses no risk to anyone and save many animals a life of misery and a violent death. "
While the Ministry of Ecological Transition recently congratulated for the launch of its Youtube channel dedicated to the animal cause, he had rebounded by calling him out on fur farms and had demanded their definitive closure in 2021. This call, which is that of the majority of French people (according to a 2020 survey, 91% of French people are opposed to the fur trade), will it finally be heard?
Fur farms are hotbeds of disease
According to recent studies, mink could be the missing link in the process of transmitting COVID-19 to humans. Indeed, cases of the disease have been reported in mink farms in Denmark – where a mutated strain of the virus, which could have had "disastrous global consequences" according to the authorities, has infected mink and several workers – in the Pays -Bas, in Italy, in Spain, in Sweden, in Greece, in Lithuania, in Canada and in the United States and even with us in France. Millions of mink have been slaughtered in an attempt to alleviate the crisis. Faced with the threat to public health, the Dutch government voted for the early closure of its last mink farms.
The US Centers for Disease Control and Prevention warns that about 75% of infectious diseases that have recently appeared in humans come from animals. On fur farms, animals are confined in tiny cages soiled with blood, pus, feces, and urine, and crammed next to each other, making them breeding grounds for emergence, the mutation and spread of dangerous viruses.
Fur farming is cruel
In addition to being a breeding ground for disease, fur farms continue to plague countless animals, who endure a life of suffering, locked up, tortured and doomed to terrifying death, waiting for these horrific places to close in. never their doors.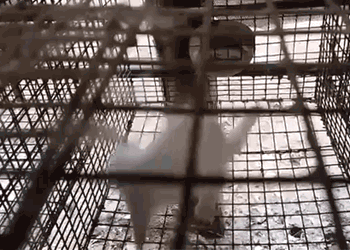 In fur farms, mink are confined all their lives. Unable to adopt a natural behavior, they often go mad, and some even go so far as to self-cannibalize, biting their limbs or tails due to the strong psychological and physical distress they undergo. They are killed in excruciating ways, whether by poisoning, gassing, drowning or being skinned alive.
Let's give fur the final blow
The fur industry was in decline long before the pandemic. Most of the big names in fashion, including Jean Paul Gaultier, Chanel, Prada, Gucci and Armani, had already pledged to stop using this material, and many countries ban the breeding of animals for their fur, such as Austria, Germany, Japan, Norway, Switzerland and United Kingdom.
In France, other animals suffer just as much as mink in farms, such as Orylag rabbits bred for their fur or those bred forangora. For these animals too, we must not wait until 2025 to put an end to their ordeal.
Take action with us to close all fur farms in France, by writing now to the Minister of Agriculture so that he puts an end to the nightmare of other animals locked up and killed for their fur in France: